Hey readers, today's a good day for me back Kota Kinabalu once again, and say goodbye for a while to the prison island. I will be riding on a Triple Seven back to Kota Kinabalu. What's a Triple Seven anyway? It's not the lottery you had found in the casino. It's a Boeing 777, which I always called it Trippllleeeyyyy. Today, I will be flying on a Boeing 777-200ER which is owned by Malaysia Airlines, operating on flight MH 2640 inbound from Kuala Lumpur to Kota Kinabalu as an upgraded flight from Boeing 737-800. I had overnight over KLIA though and it came to a very good time for me to spot morning flights. Here are the spotting I had made today.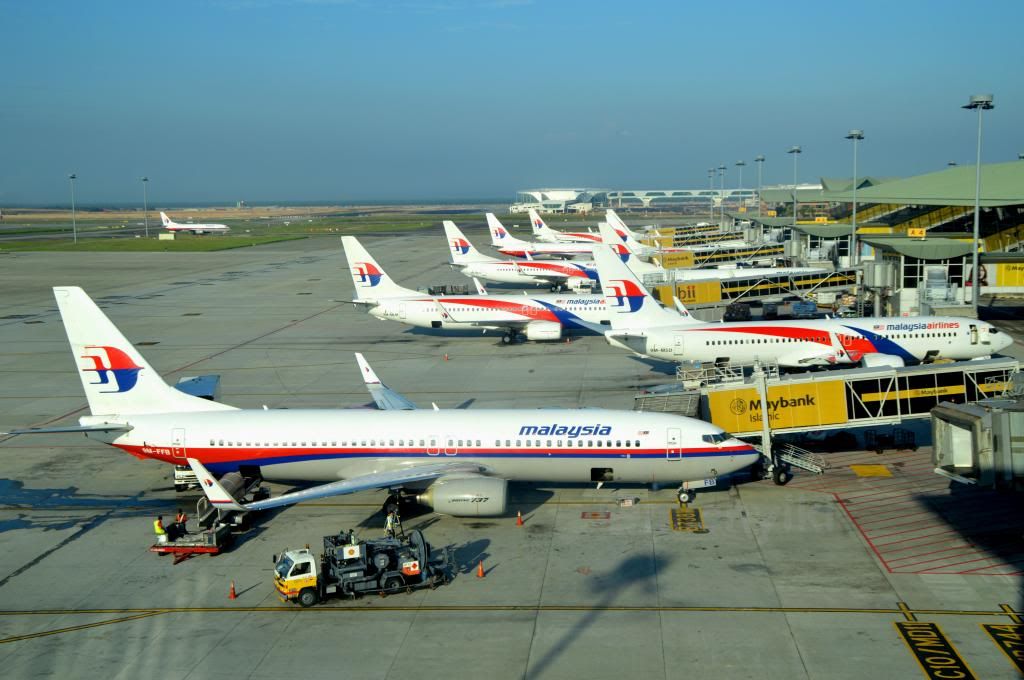 Group of Malaysia Airlines' Boeing 737-800 fleet say good morning :)
Compilations of Boeing 777-200 Series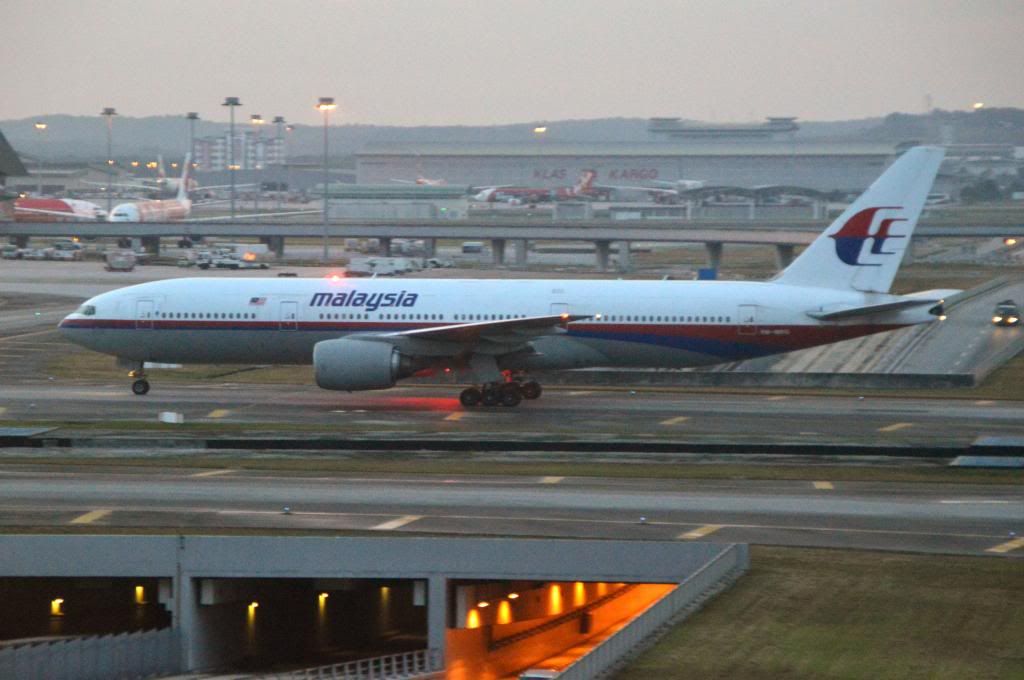 9M-MRG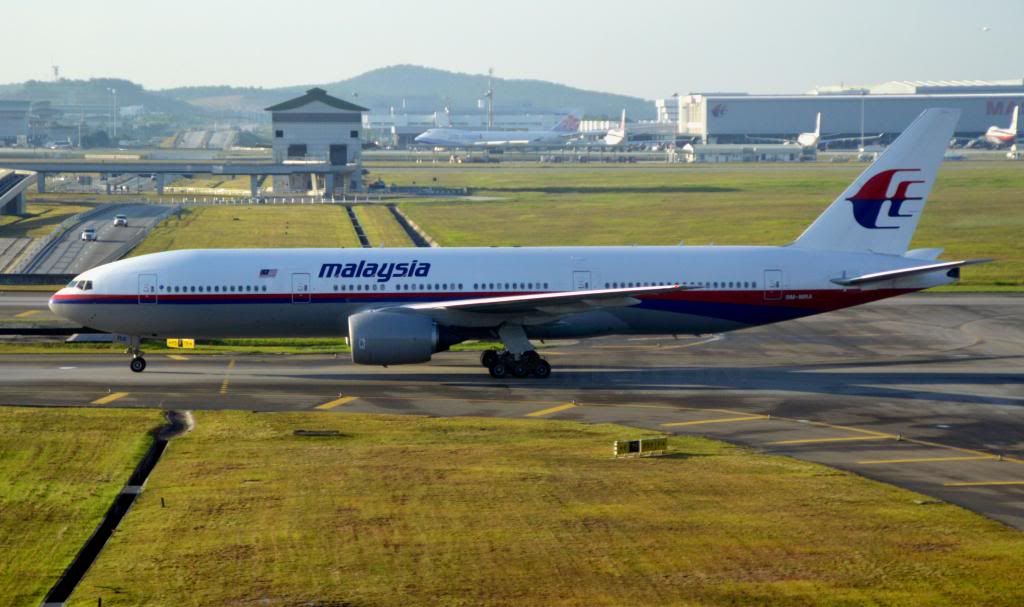 First Malaysia Airlines Boeing 777-200 , 9M-MRG
Surprisingly Qatar Airways sent their Boeing 777-200LR come to KLIA. Rare Scene~ A7-BBF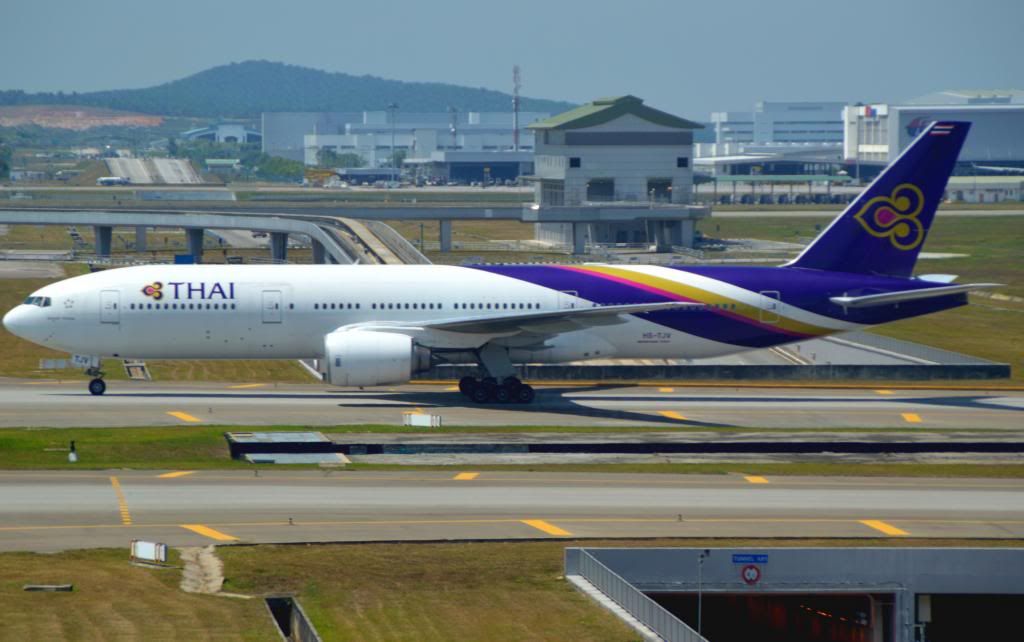 Thai Airways also sent their Boeing 777-200 come to Kuala Lumpur this morning. HS-TJV
My first successful Malindo Airways Picture too, 9M-LNH
Thereafter, I had myself into a sleep since I didn't really sleep well since I had overnight myself in KLIA. Found myself a long bench around EDEN Corner and lay myself onto that bench for about 2 hours quick nap. Surprisingly, I had woke up around 11 am. You can hear Hari Raya songs around the corner though. However, I had woke up myself and went to Anjung Tinjau once again to check out any special aircraft. Afterall, when I reached there, I saw this aircraft was towing from the MAS Hangar Building towards Main Terminal Building (MTB).
And Surprisingly, this is my aircraft flying to Kota Kinabalu, 9M-MRO
Malaysia Airlines Retro Livery, 9M-MXA. Really feel Nostalgic though.
After I finished spotting some planes, time for me to have lunch though. While having my lunch in KLIA, a senior friend facebook messaging me that he was in KLIA too. So I ate the meal quickly and dashed myself to the standby counter. He was so different than before. Big size, tall and even good looking. I was wondering, whether I could be like him too. We walked and talked together since he's going to Penang and my gate was around his corner. Therefore, we had chat quite number of things, such as his work, my studies and many jokes though. Long time didn't see each other though, around 6 years of no contact with each other. Since his flight left early, I started to look around and proceed to my gate, B6. Parked with this enormous and huge plane from the terminal, it was fantastic. Windmilling engine which makes the plane so wonderful. My seat was on 19A, so normally the rear cabin board first.
Not to forget all the details:
Date: 04 August 2013
Airline: Malaysia Airlines
Flight: MH-2640
Aircraft: Boeing 777-2H6 ER
Aircraft Registration: 9M-MRO
From : Kuala Lumpur (WMKK)
To: Kota Kinabalu (WBKK)
Scheduled Time Departure: 1540
Scheduled Time Arrival: 1805
Seat: 19A
Class: Economy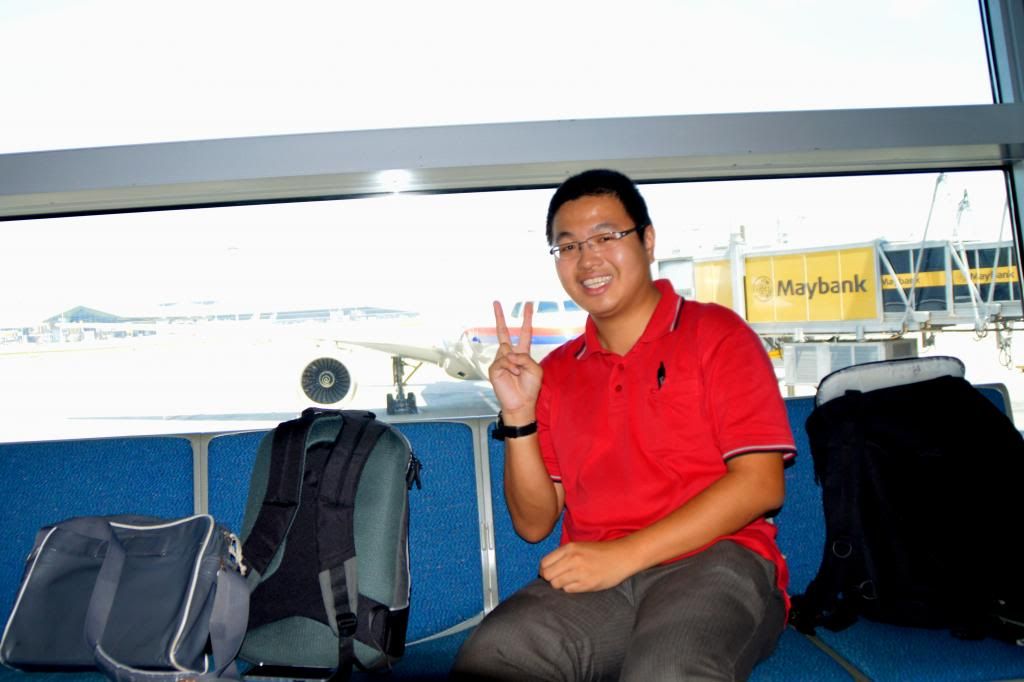 Not to forget my picture with the Trippplllleeeyyyy
So 25 minutes before departure, as usual, chime sounds and they invite all Enrich Platinum, Gold ,One World Privilege members and families whom bring senior citizens, disabled peoples and kids to board first and others will remain seated and wait for further announcement. After boarded, it's time for me to board. Surprisingly, there are quite few of them already. I bet this flight got a lot of kids around. Therefore, expect some children noise. Hahax.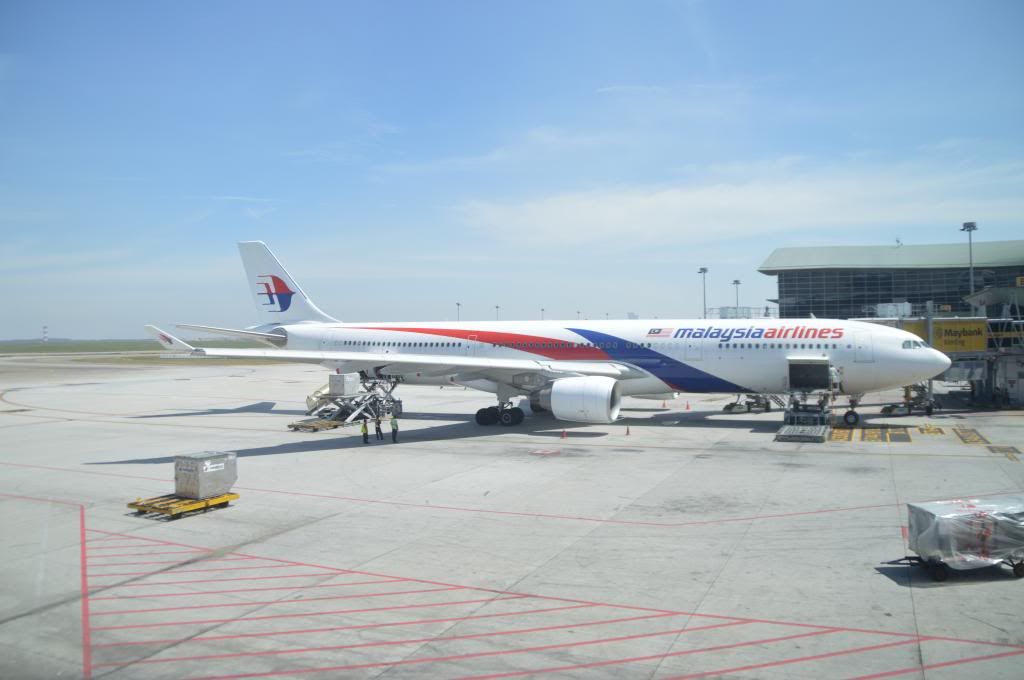 While Boarding, the morning flight MH 2604 to Kota Kinabalu was parked at gate B4 using Airbus A330-300 on 9M-MTG. In hari raya season, expect most number of flights will be upgraded to a bigger equipment, therefore, it's a rare chance for you to try a big aircraft running on domestic flights.
Check out the front fuselage, this is so wonderful where you can see two aerobridges connected to one aircraft.
This Big Engine, Rolls Royce Trent 892 can power a 282 passengers, plus crew members and cargo. Imagine how much thrust it can produce and times two, since Boeing 777 is operated by a two engine aircraft. You may see how many passengers were boarding on this flight. Cool.
The moment when Flight Stewardness asked my boarding pass and showed me to the first walkway of the cabin. Air conditioning sound can be heard though. Luggage bins are like Boeing 737-800 new series, making the place look spacious, except the lighting which is not as beautiful as the sky interior does.
Seating myself on Seat 19A, with most of the passengers were Muslims, having their fasting. I could barely see their tiredness though, including me (though I'm tired not because of fasting, but tired from depriving of sleep), but the Boeing 777-200 made my flight more elegant and awake enough to see the beauty of its wings.
Check out the wing of the Boeing 777. It was so massive compared to a Boeing 737 series. Never thought such a massive aircraft would operate a 2 hours 40 minutes from Kuala Lumpur to Kota Kinabalu, even though they deploy schedule flights of Airbus A380-800 on short route from Kuala Lumpur to Hong Kong. However, let's check out their entertainment system. Their Entertainment system, was rather a older version of AVOD, which uses remote control stowed and latched on your seat.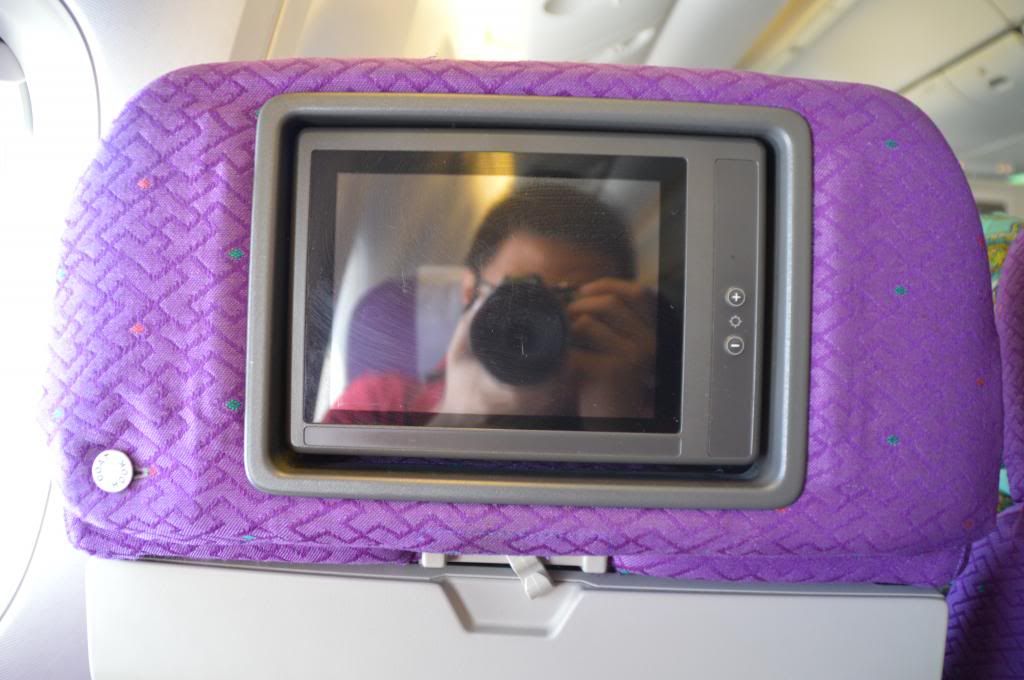 Here's me taking a DSLR Camera. You can adjust the brightness of AVOD. For long travelling passengers will feel comfort on the seat as it's spacious, with generous legroom except on window seats, whereby they have seat electronic box under the seat. Cushion and wide spacing above head make passengers even comfortable in terms of environment and its lighting. I strongly agree that the ambient was quite suprisingly quiet compared to other aircraft like older version Boeing 737-400 and older.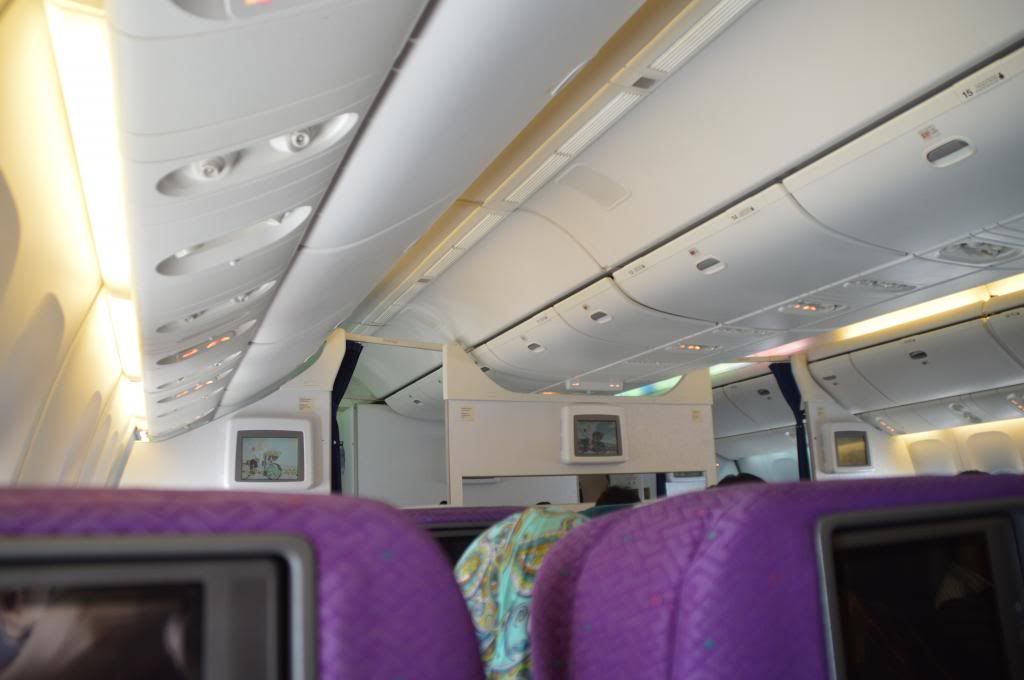 In Malaysia Airlines Boeing 777-200, they do not have First Class, but they have Business Class which are of Cucible type seats, whereby my friend, Chin Ja Hur, had his trip on Business Class back to Kota Kinabalu on the previous day, on same flight. (Credits to Chin Ja Hur)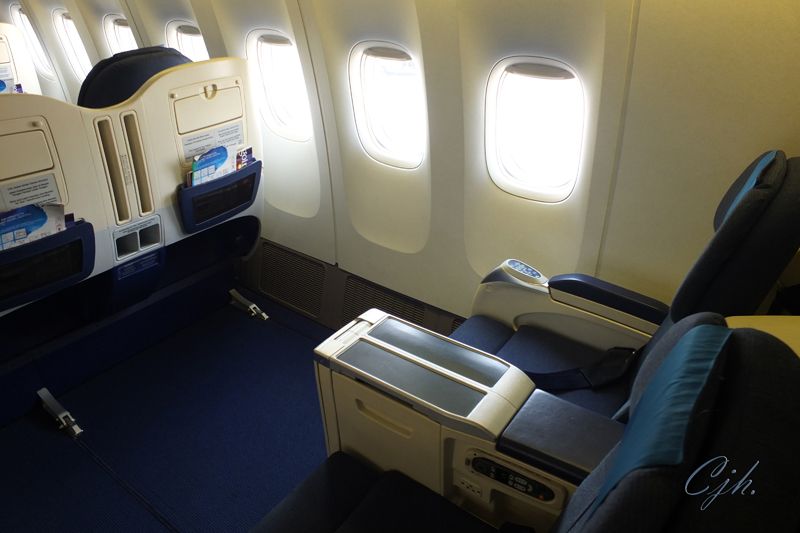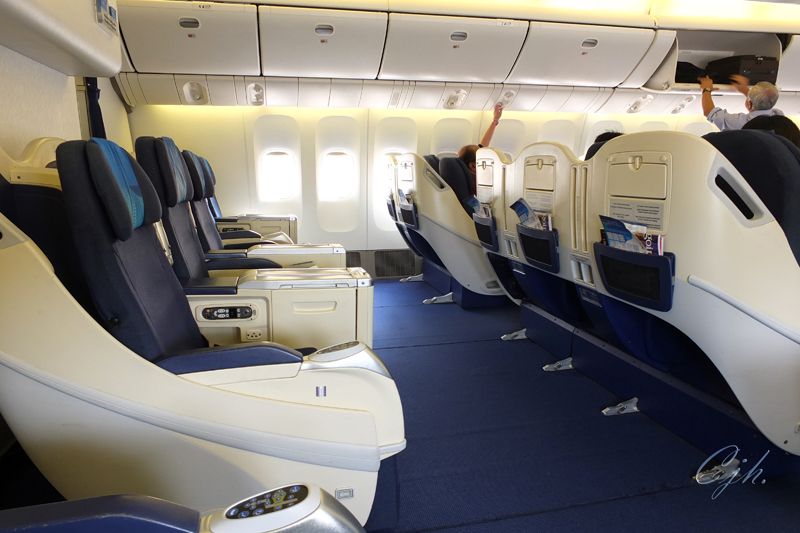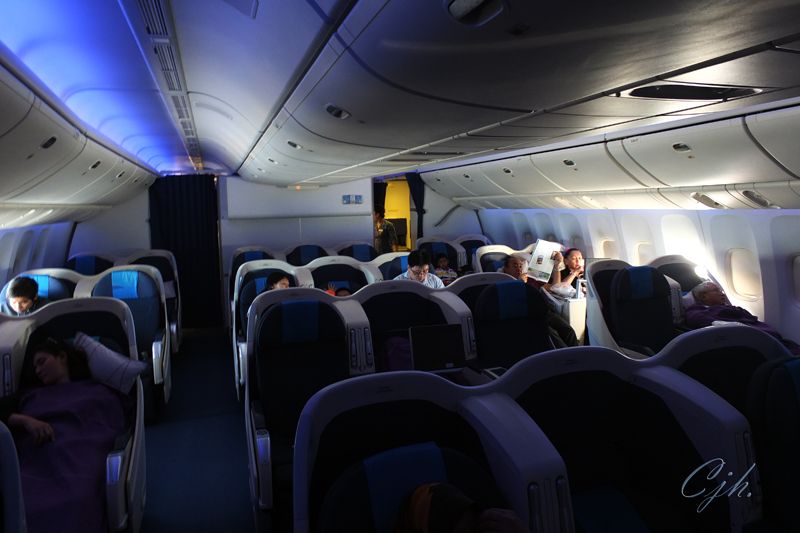 You may look their seat was much spacious compared to Economy Class (definitely of course). However, I
would like to cover my trip on my economy class trip. In this Boeing 777-200, Malaysia Airlines uses Rolls Royce Trent 892 to power the aircraft. So I would like to present some information such as the Safety Card which is below of it:
Page 1 of the Boeing 777-200 Safety Card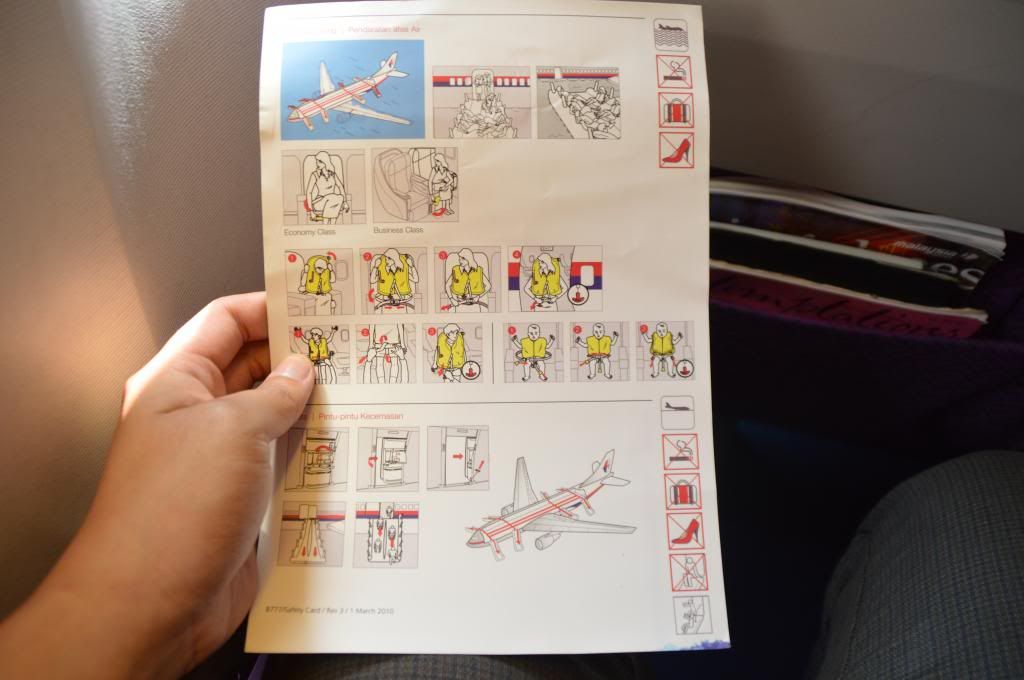 Page 2 of the Boeing 777-200 Safety Card
Pushback was done about 3:45pm and I had upload a video in facebook, and here's the link for the
video on engine startup
. Calm and ready for the departure. I spotted some pictures while aircraft taxied to Runway 32R.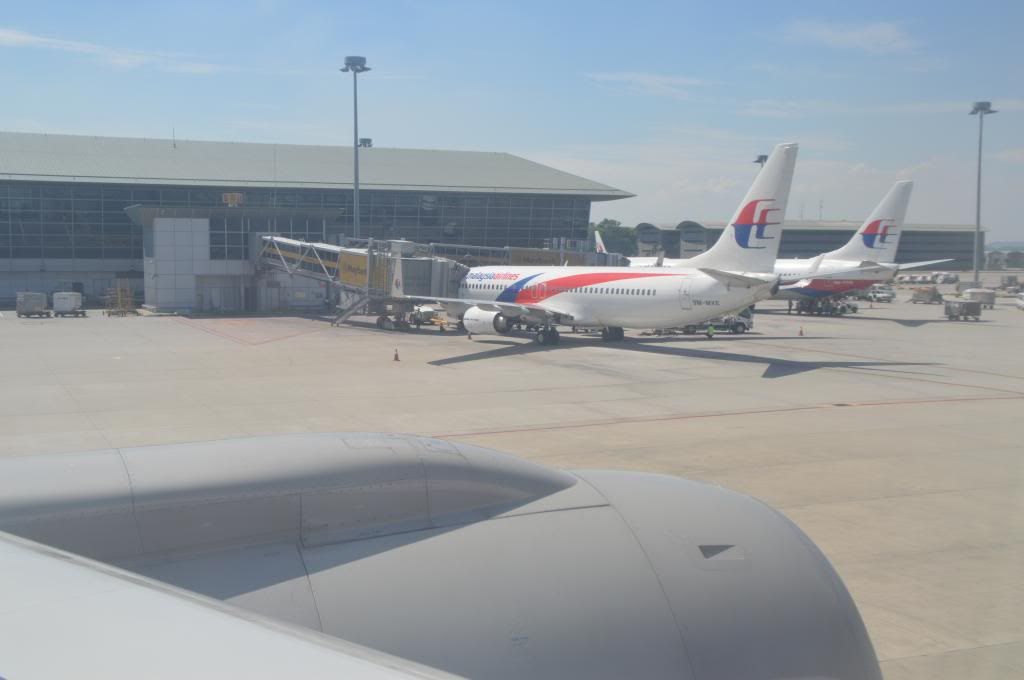 Boeing 737-800 Fleet
Check out this Antonov. It's so huge where it's parked on the remote bay though.
This logo, it's really meant for Malaysia Airlines Boeing 777-200ER engine. Imagine this engine had powered thousands of flights over continents. Compared to other aircraft, Boeing 777 is simply a magnificent design.
Some several aircraft were in front of us, giving way to other small aircraft for departure as big aircraft like us had to delay for 3 minutes departure due to wake turbulence generated by our aircraft. After Airasia's Expedia Livery Aircraft (9M-AFG), blasting off the runway, it's time for us to line up and ready for the departure. Takeoff was quite smooth and even. No baby crying and uneventful flight proceeding us to the destination where the Land Below the Wind. Here's a youtube video uploaded for the view. You may hear the spool up of Boeing 777-200. Enjoy :)